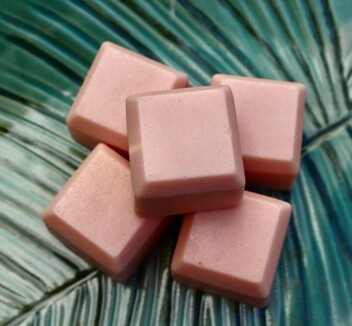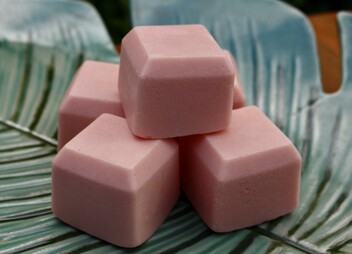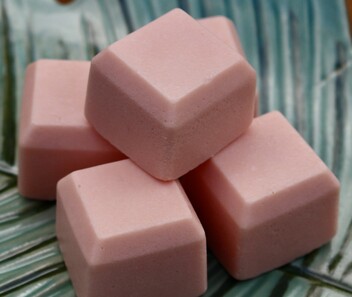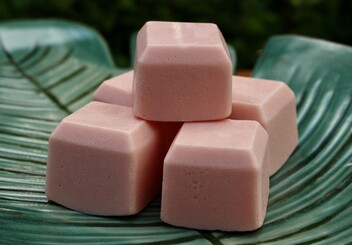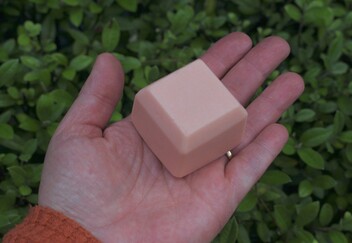 Solid 'Poo Bars - Love Spell
Sudsy Moose
$13.00
Set the mood with this romantic fusion of cherry blossoms, hydrangeas, peach, citrus and apple. With a touch of blondewood, this luscious fragrance will charm anyone. A light, fruity floral.
They are not soap - they are made from synthetic cleansers, which have a natural base. Read more in my blog here. Suitable for normal-dry hair. It is recommended that you still use a conditioner afterwards if your hair is very dry. Scented with Love Spell fragrance oil.
Regular sized bar is 68g minimum. Don't be fooled by their size - they last a long time.
LIMITED OFFER: Sample size available at cost price ( just $4). These little square bars weigh min 33g.
Instructions: Simply rub over wet hair and lather as usual, then rinse out. I find it lathers better by using lots of water. Best results are achieved by shampooing twice.
BE INFORMED - Many shampoo bars on the market today still use sulphates which are known to be quite harsh on your hair. Go on - check your current brand right now and see if the first or second ingredient is sodium laurel sulphate, sodium laureth sulphate or sodium coco sulphate.
My special formula is achieved by not using some of the harsh chemicals out there that are in all the mainstream products - no sulphates, parabens, phthalates or other nasties. One ingredient in particular often found in other commercial products - cocamidopropyl betaine - has been purposefully left out of this recipe as it is known to be an irritant to sensitive skin types.

Ingredients and their uses:
SCI (Sodium Cocoyl Isethionate) is a coconut oil-based surfactant. It is very mild on skin, hair and eyes and has a silky skin feel.
FOAMING APPLE is an anionic surfactant derived from amino acids obtained from apple juice. Sulphate and preservative free.
Varisoft EQ 65 is a green, readily biodegradable cationic or positively charged ester quat derived from stearic acid and combined with cetearyl alcohol to act as a thickener and conditioning agent for emulsions and hair care products.
CETYL ALCOHOL is a fatty alcohol used as an emulsion stabiliser and opacifier.
SLSA (Sodium Laurel Sulfoacetate) is derived from coconut and palm oils, and conforms to Ecocert's natural and organic cosmetic standard and is 100% of natural origin.
SHEA BUTTER is obtained from the seeds of the Karite tree (Butyrospermum parkii). This product has been ethically produced and sustainably refined.
CAPRYL GLUCOSIDE is a non-ionic surfactant obtained from renewable raw materials: fatty alcohols and glucose from plants.
DLS is a natural surfactant that is derived from vegetable oils.
FRACTIONATED COCONUT OIL is a medium-chain triglyceride (MCT) which is a light, penetrating oil that doesn't leave a greasy feeling.
PROVITAMIN B5 is a humectant, i.e. it helps tissues to retain moisture, this helps hair to stay soft and elastic.
VEGETABLE SILICONE is a liquid emollient of olive origin that improves hair brightness and smoothness.
VEGETABLE LANOLIN is a vegan alternative to lanolin and mimics wool lanolin in both appearance and properties – it is a natural moisturiser and cutaneous barrier protector.
LACTIC ACID is a humectant and natural pH adjuster.
HYDROLYSED SILK PROTEIN conditions and strengthens hair whilst improving plasticity and manageability. It supports moisture levels and penetrates to the hair cortex to promote repair.
EUXYL PE 9010 (PRESERVATIVE) Paraben free
FRAGRANCE OILS
COLOUR (COSMETIC SAFE)
SKU: 10000-22